SPIRITUAL TRAINING FOR THE BELIEVER (FREE online course)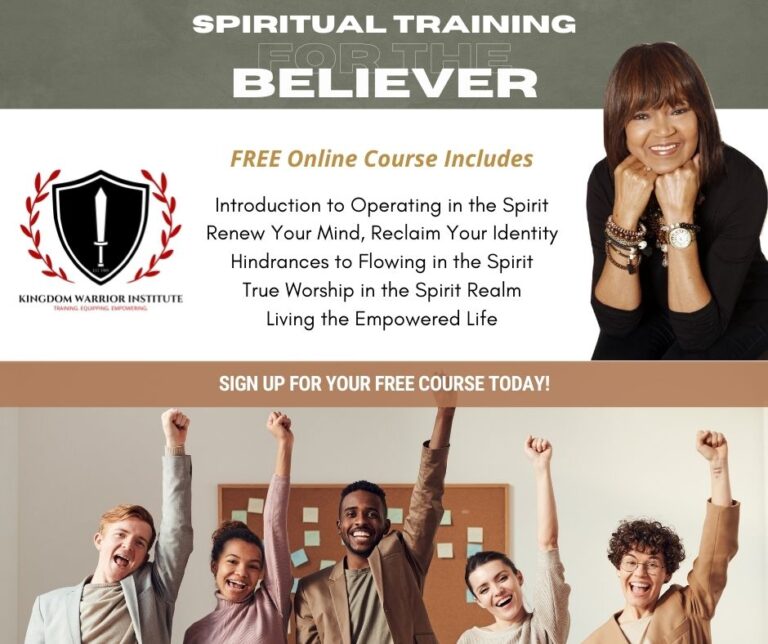 About Spiritual Training for the Believer
Online Course | Complete at Your Pace
Spiritual Training for The Believer is designed to help you understand how God has equipped you spiritually to operate in the spiritual realm as well as the natural. You were created in the image and likeness of God to re-present Him in the earth.
About The Instructor – Dorrine Jones
Dorrine Jones is a vibrant apostolic and prophetic trainer in the Body of Christ equipping believers to fulfill their prophetic destiny. Her passion is to see the Body of Christ be Mobilized, Maximized and Intensified to fulfill God's purpose in the earth.
As an international speaker in over thirty nations, she has ministered to thousands of women through her, School of the Woman program consisting of: workshops, seminars and conferences. She has also authored several books. Her most popular of which are The Eaglefied Woman and The Authentic Woman of God. She has also been a frequent host of TBN Network, "Joy in our Town", Philadelphia.
Aside from being a wife and mother, Dorrine is also a certified trainer for teaching Success Principles and Personal Growth and Development, for women in the marketplace.
She is the Founder and President of the Kingdom Warrior Institute, and serves as Apostolic Overseer of Abounding Grace Family Worship Center with her husband Harry D. Jones.
The Enrollment" button will redirect you to our KWI homepage and online course platform. From there you can follow the steps to "officially" enroll.

Step 1: Click the "Enroll for Your FREE Course!" button on the homepage.
Step 2: Click the "Enroll for FREE" button on the course page "Spiritual Training for the Believer".
Step 3: Complete the form to Create a New Account and sign-up to the online platform.
Step 4: Begin to take this class at your own pace.

The KWI homepage will have additional answers to a few FAQs you may have.
CALLING ALL WARRIORS!
Fight the good fight of faith; lay hold of the eternal life to which you were summoned and [for which] you confessed the good confession [of faith] before many witnesses. 
1 Timothy 6:12 (AMPC)
The Kingdom Warrior Institute (formerly known as the "School of the Warrior") was established in 1989 by Dorrine Jones. Our goal is to train, equip, and empower you to live victoriously as end-time warriors of the kingdom of God, so you can stand firm in your sphere of ministry, marketplace, and beyond.
You were called and built for such a time as this, and it's your time to stand up and stand strong! If you're ready to be activated, and to ascend to new levels of authority in the spirit realm, this institute is just for you.